Choquequirao Peru:
Lesser known route
to Machu Picchu
NOTE:
This is an overveiw for the Choquequirqo Trek page.
For the complete content enter here
->
Choquequirao Trek page
: trail descriptions, topo maps, videos -
more
---

Overview
: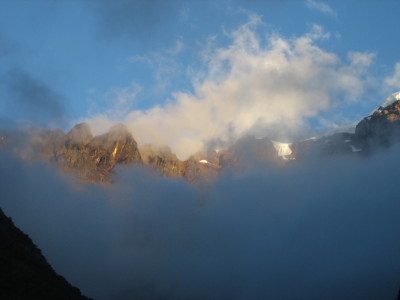 Choquequirao Peru:
remote Inca Trail


past
Machu Picchu's Sacred Sister
This lesser known Inca Trail to Machu Picchu travels through dramatic glacial scenery, plunging thick forested slopes, and "old world" Peru.
It's quite unlike the crowded and famous Inca Trail that starts from Cusco.
This route takes you past the lost city of Choquequirao, Machu Picchu's sacred sister, hidden high atop the Andes in cloud forests.
Choquequirao is known as the "Golden Cradle of the Incas". It was one of the last bastions of resistance and refuge of the Son of the Sun (the "Inca"), Manco Inca Yupanqui, who fled Cusco after his siege of the city failed in 1535
---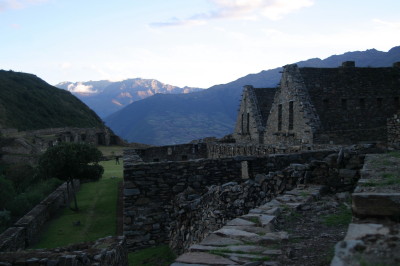 The Choquequirao Inca trail wanders through remote Quechau villages, fern covered rain forests, and high country tundra prairies of grass called Ichu, surrounded by the glacier worlds of the Salkantay Mountain Range.
Detailed Guide to Choquequirao trails with topos and Cusco (click here) - Explorers guide to Choquequirao, 'the lesser known Inca trail to Machu Picchu'. Trail guide and descriptions. Topo maps, history, short narratives, videos and fictional stories. Also, advise on starting your trip.
---
excerpts from Storyteller's tour . . .

"… days from road or vehicle, in a landscape too rugged for the long reach of technology–but what did the village of Totora care? Its rhythms had been set centuries ago."

"Scaly brown ankles and permanently blackened toes showed through X-crossed leather sandals…There was a single stained tooth left in his smiling head, and from his stuffed cheek oozed a wad of coca leaves."
"In that moment, it wasn't the dizzying bottomless canyons or jungled slopes plunging from skyscraping glacial peaks, or even the distant view of the remote village of Yanama that took our breath away. It was five children, coming up… no that's not quite right, jogging?, hmmm–galloping up the crevice towards us…"
---
Storyteller's Tour: Lesser known route to Machu Picchu
---
Videos for Choquequirao
note: Videos are a supplement to the Choquequirao
Storyteller's tour. R
ead the story t
hen view the videos.


---
Topo Maps of Choquequiras Trek
---