New Mexico Fall Colors
---
Google
BackStory - Northern New Mexico magical realism
---
Overview (back to top)

New Mexico fall foliage provides the largest array of brilliant autumn colors available anywhere in the southwest. That's because the tremendous range of ecozones within the state provide an incredible diversity of foliage and canopies, each with their own brilliant hue and spectacular scenery.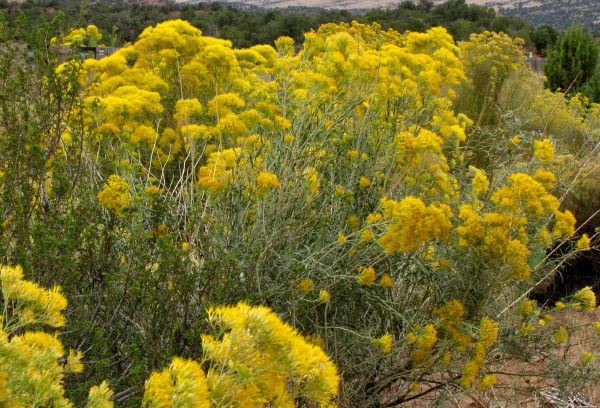 Fall colors in New Mexico begin in September when the deserts come alive. Rabbit Bush and Sage Brush cover vast plains and red canyons in carpets of gold and ochre.

A few weeks later the fall foliage in the New Mexico mountains begin to dance in radiant Aspen splendor.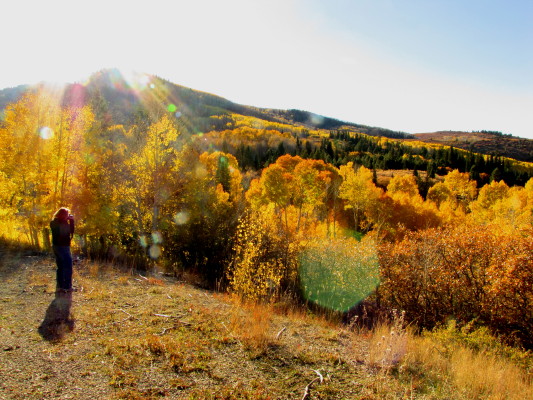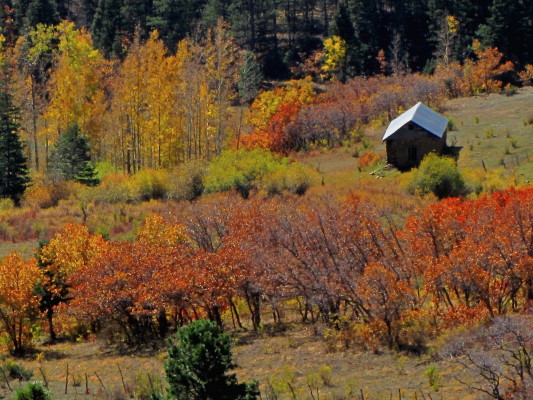 Then in October, New Mexican fall colors march down the rivers. The Cottonwood trees grace the Bosque, or riparian flood plains, in broad swaths of yellow set against their thick dark branches, mingling colors with glowing orange Tamarisk.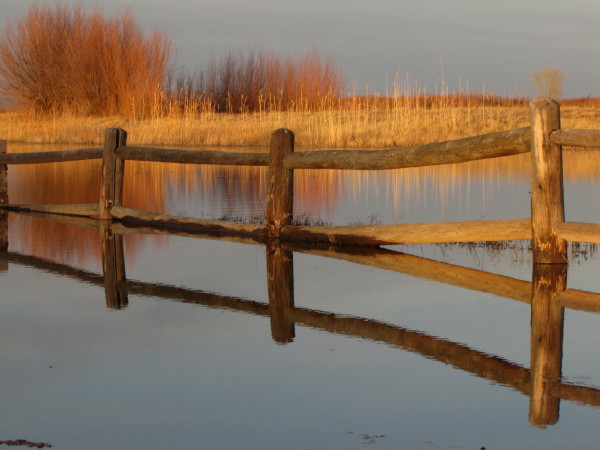 Northern New Mexico Fall Color Drives (back to top)
In the mountains colors usually peak in the third and fourth week of September, but can be still quite powerful into October. The Enchanted Circle Drive in northern New Mexico is a tremendous option for viewing fall colors, seeing the splendor of the highlands, while at the same time exploring the many of the Hispanic and Indian cultures that make New Mexico unique. Below is the enchanted circle map.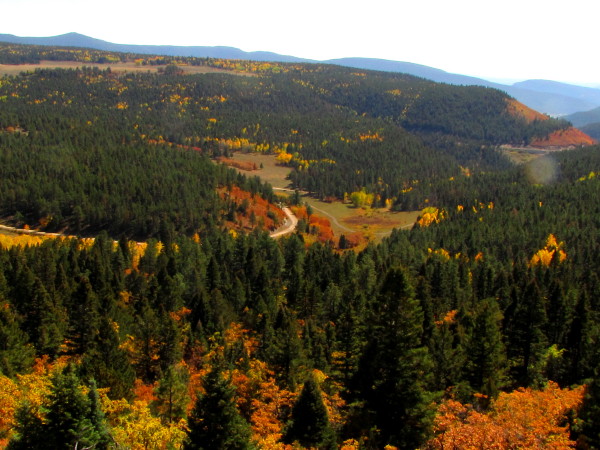 If you'd care to get off the well traveled path of the Enchanted Circle Scenic Byway, try the Mora route. Remote and intimate, the vistas are simply more spectacular and the setting much more rustic. On this path the tourist trappings disappear and you can make a connection to historic New Mexico.
Map of Enchanted Circle Scenic Byway and Mora Route for NM Fall Colors (back to top)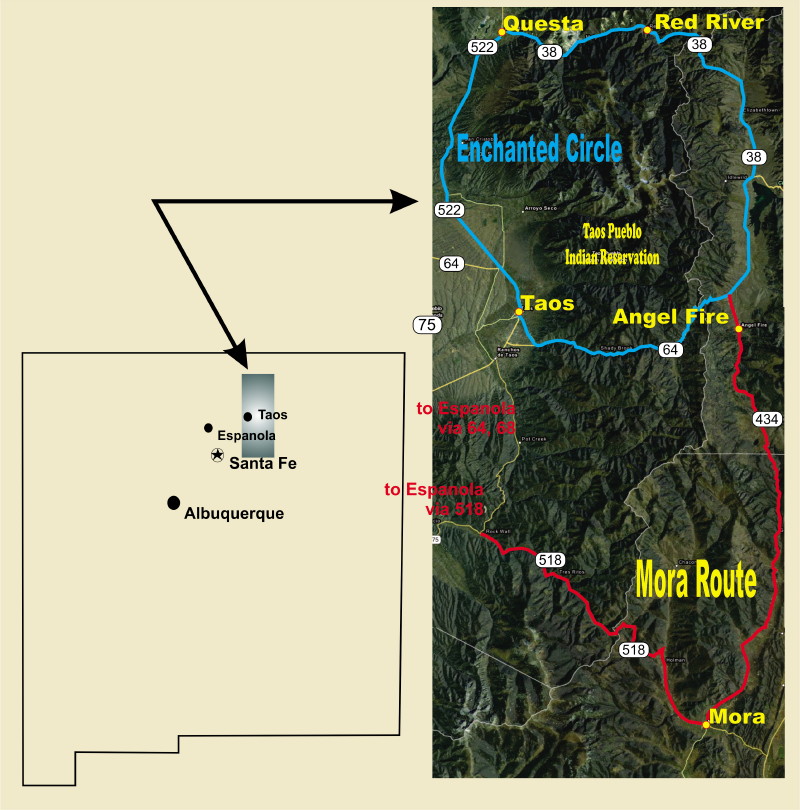 Mora - Historic Northern NM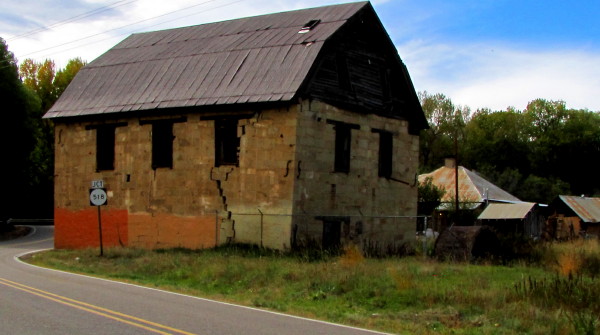 ---
The Last Penitente - (short story Synopsis) (back to top)

The Spaniard, Antonio De Vargas, had been born two-hundred years ago, east of the Río Grande, in the land of sun, silence, and adobe. When Michael, a young Gringo boy, first spotted De Vargas in a remote village in 1970, it was during the 'Festival of the Dead'. But it was not this strange village celebration which had summoned De Vargas from the nether. That's because, in all these centuries, neither De Vargas's colony nor his secretive brotherhood had ever truly been gone. Some purpose had thrown together the boy and man who lived in very different New Mexicos. But up here, in the north mountain vastness of the forty-eighth state, who could say whose New Mexico was real–and whose was not.
---
(back to top)

The Last Penitente
(by Jay Archer David)
---
northern NM magical realism
~ Chapter 1 ~

Antonio De Vargas felt deathly weary. He was being summoned to a stone cold sleep even though what seemed a short while ago he'd been quite vigorous and lively. To him, this drowsiness was attributable to the effects of a heavy meal, notwithstanding the fact he hadn't eaten in nearly two hundred years. De Vargas had learned long ago that activity was the best defense against sleepiness, and so, extended his stride through knee high white grass and pushed through the mounting fog in his head and body.

On this crystalline day, the land flowed down from the surrounding peaks in rivers of yellow. The aspen, having been graced by a month of cooling crisp nights and nurturing warm days, had burst into colors the likes of which hadn't been seen here in decades. By straining his ears, De Vargas could almost make out an olden song murmuring down the slopes in broken stanzas.

De Colores, de colores - Se visten los campos…

(In colors, in colors - The fields are dressed…)

But because they were not, the voices in the chorus did not sound quite human.

De Vargas was tied to the land with an un-severable umbilical and so his eyes took in all of the autumn glory as he traversed the field to the two horses waiting in the rustic corral. But his heart participated in none of nature's celebration. The business of killing of a man was somber work.

The ornery pony wholly expected to get the better of the feeding that was approaching from the field. Her stocky shoulders bulged as she pranced in front of the split-rail fence, and her dark brown coat glistened with morning dew. A full six hands shorter than the pure white Andalusian mare standing at the back of the corral, the pony was nonetheless dominant. That's quite simply because the pony was a bully. In fact, the tall Andalusian was forever recovering from a deep gash the pony had delivered to her forearm decades ago. That hurt, layered upon many others, had worked into the mare's brain with such pestilence that she'd take flight given the slightest snort from the pony's nostrils. The relationship of the two animals, caged together, had formed a pattern that could not change.

Ironically, the expectations of the pony had no bearing on reality. She was not going to get the best of this, or any other feeding. She never had. That's because De Vargas knew her all too well. In fact he relied on her egocentric behaviors to control and manipulate her.

De Vargas reached for the handmade juniper pitchfork that was laying against the carreta de la muerta– the death cart. Inside the smallish cart stood poised, the angel of death. The solemn unmoving figure was a skeletal female, a hag, and she held a bow drawn to full extent. Her mounted arrow was aimed exactly at the center De Vargas's chest. De Vargas paid her no heed. She was a statuette carved from wood by a shepherd who lived most the year in the high meadows with idle time to spare while tending a wealthier man's sheep. The brother shepherd had some artistic ability, so the hag had a life like bearing, but was not alive. Never mind that death's wooden eyes, if not the tip of her arrow, followed De Vargas's every movement.

Pausing to apprise the cart's solid wheel made from hand hewn giant sycamore, he noted its split had grown in length by more than two pulgadas. That was a problem. De Vargas had hoped the wheel would last for one more spring sacrament. The carreta had been dragged up to his coral for possible repair; dragged because its wheels were made not to move. Wheels unturning, it was designed to be pulled, not by donkey, but by a man strapped into a flesh shredding horse-hair harness. In short, everything about the carreta was designed for punishment, while deaths arrow targeted the man's back, who bore the cart. But for now the cart sat in waiting, De Vargas being a reluctant wheelwright, putting off the chore with winter near at hand. Still, if he waited too long…

…too long, he mused.

De Vargas fell into an abrupt and deep awareness of the empty rancho surrounding him. An ancient and twisted pińon tree was growing well beyond its lifespan, like an old friend, near the coral's corner post. It leaned away and towered over a stand of small white pines. Sap sealed the old wounds in deep ridges of bark at the pińon's trunk. But festering patches of raw red pulp, higher up on its thick limbs, foretold a different future.

Suddenly, the ghost of children's laughter sprang from the shadowed trees beneath the great pińon, then echoed away further up the rise. After that, there was silence. De Vargas's heart melted.

No! He shook his head. He wouldn't suffer this. It was too painful. They had been gone so long. So many had been gone so long.

The pony received the first pitch of hay and was allowed to rule over it while the mare trotted behind, worrying and fretting. The pony chomped down on her prize, and as usual, didn't realize when the Andalusian received three times as much a safe distance away, an amount befitting the mare's weight. But as for the Andalusian, she only knew that she'd been denied food when it first arrived. So her sense of depravation was reaffirmed, while the pony gloated in supremacy–and the true master prepared to ride.

Though the Andalusian's purity had been diluted with time, she was, nonetheless, De Vargas's pride. Of true Spanish descent, the mare was a vestige of De Vargas's heritage passed down from father to son. The equestrian line had been preserved as best as could be in this isolated hamlet. For example, De Vargas's family had endeavored to keep their livestock separate from that of the Pueblo Indians, especially during joint campaigns, where Pueblo warriors joined Spanish militia to hunt down and punish raiding Ute and Comanche. Those campaigns, in the early days, might intermix horses for months at a time. But that had been long ago.


Alas, De Vargas 's colony was old–older than anything European in the north Americas east of the Río Grande. It had already known 80 years of tenuous occupation before the Pueblo Revolt of 1680 forced its settlers to flee southward to El Paso. However, the Spanish re-colonized the north within twelve years. De Vargas had been a teenager during the Reconquest in the summer of 1692. He'd live through the hard winter in the Indian occupied Santa Fe, when lack of food and resentment of Indians inhabiting the old provincial capital led to crisis; and the Spaniards drove them from the town, executing some, enslaving others. He'd helped reestablish the mountain settlements in the years of hostilities which followed.

Over the long grain of time, what had been "new Spain" became "new Mexico" with the war of independence. But regime-change changed little in the mountain vastness of the north. Isolation was the constant that governed life here; and the northern settlers tasted ultimate isolation upon driving their priests out. They'd had to. The Friars were vassals of the Spanish crown threatening the newly formed government of Mexico. But so much left with the Franciscan padres, literacy for one thing. Ignorance had always been rampant amongst the simple villagers and settlers, now it was unchecked.

More than anything though, the absence of the priests had created a spiritual vacuum. A hostile land, the piety of colonist requiring salvation–Antonio De Vargas did not question what arose to fill that religious void, though it had wrapped and bound him, like so many others.

De Vargas fondly watched his Andalusian chew and pick at the grass he'd fed her. If she was no longer truly Andalusian, he was none the wiser. There hadn't been a standard to compare her to for centuries. Like those who'd kept her, perhaps she'd become something else in isolation. And this something else had become normal. So much so, that were De Vargas to see an Andalusian that didn't possess glistening alabaster antlers jutting gracefully from behind its ears, he'd likely call that horse an oddity.

As he walked from the corral to the adjacent dilapidated barn to fetch a saddle, De Vargas's path took him directly across a striped asphalt, two-lane highway. But he saw no highway. He wasn't capable of any notion that would allow for such a thing. So, for him, the highway didn't exist. His path was dirt, dust, and field between corral and barn, as it had always been. Naturally, he gave no heed to the vehicle approaching at ridiculous speed on a collision course with him. He didn't believe in that either.

"But we're camping. We only have 2 days! Please not this time."

Michael's nine year old face was welling up with red puffiness. The knotted scar above his nose between his eyebrows had gone purple, as it always did when he was upset. He was confined to the smaller couch, one of two in the tiny interior of the camper that unfolded to produce bunks at night. His feet dangled over the couch's edge, too short to reach the floor, and his elbows were crossed on the small table, ready to receive his pouting face once more.

"You always do this, every time", he continued in teary protest.

His mother easily ignored Michael. Her back was to him in the camper's cramped interior. The latrine door, which was on the wall next to the built in ice box, was swung open. She crouched slightly in front of the mirror mounted on the door's backside while pinning a church hat onto her hair.

"They scare me Mommy, they hate us!"

That got mother's attention. She turned and said, "They're Catholics just like us Michael. We're all the same. Don't be childish."

Michael made to say more, but his mother cut him off.

"And, it's a mortal sin to miss mass on Sunday. Too bad!"

She snapped back towards the mirror with parental authority. That was that. Discussion over.

Michael fell back into his arms while his younger brother, above him, flopped away from the scene into a pile of sleeping bags on the over-cab bunk.

The rear door of the camper swung open, but the way was blocked by the opened latrine door.

"Honey!" The deep voice of Michael's father boomed from outside, "it's a twenty-five minute drive. You're gonna be late."

Mom closed the latrine door and the autumn morning blasted in from the camper's only entrance. A blaze of red leaves from scrub oak dancing in a warm breeze could be seen through the opening. Dad reached up a hand to help his wife down, then slammed the door shut. Two minutes later the engine of the new '67 Ford truck thundered to life, and the camper started bouncing down the washboard road out of the national forest campground. The faces of three children were plastered against the twin windows of the truck camper overhead bunk.

A breath could have disturbed the scene. A white tail deer grazed on fresh grass at the road's shoulder. The sparkling new highway was empty, save one camper, entering from a side dirt road, and one Antonio De Vargas who was laboring across it under the weight of a bridle and harness swung over his back.

Michael was the only one who witnessed it when the camper smashed directly into De Vargas. His siblings had fallen asleep, and his parents, isolated below in the cab of the truck, we're incapable of seeing such things.

After the truck hit the man, Michael spun on the overhead bunk, reached his toes onto the couch of the swaying camper, then scampered rearward with practiced balance across the moving floor to peer out the dirty glass of the back door. To Michael's amazement, he saw the old Spaniard exit the road as the camper sped away. The man was unharmed, his burden of horse tack still secure upon his shoulder. It was as if nothing had occurred.

De Vargas froze in midstride. He'd felt a hot blast pierce his heart. It slammed into him, ran through him, and then exited through a small hole in his ribs. De Vargas fell to one knee, and grabbed his chest with a free hand, while the other hand worked to balance the bridle on his shoulder. He had felt the lifespan of child pass through his heart, with the familiarity of a son, but with the weight of a heart attack.

Michael wanted to hide his white face and run away, far away. The church in this Hispanic northern New Mexico town may have been neutral territory for adults, but for kids, no sanctuary existed. The church looked like it had been there forever. Adobe brown and windowless, it had no corners whatsoever. It was rounded with homespun curves, and had deep thick walls of ancient cracking plaster and mud. The only opening was two huge blue doors underneath a single stubby spire. Atop the spire was a simple white cross. Lining either side of the steps into the church were adobe walls crowded with waiting villagers and their children. The village boys eyed Michael with contempt.

"Is it Halloween?" Michael's sister whispered.

She'd noticed in the hands of some children were dolls dressed with old fashion gowns and fancy hats. But the doll heads were skulls, and fleshless white ribs protruded grotesquely from the doll's chests. Also, in the adjoining graveyard, small altars had been constructed around several of the grave sites. On the altars were placed old tattered pictures, like those found in museums: bright marigolds, burning incense and candles adorned the sides. Fresh and wonderful food stuff was laid atop the altars, and a painting in a worn frame was propped up against one headstone. It depicted two skeletons dancing.

"I don't know…", Michaels father began.

"Today's the final day of Dia de los Muertos", his mother cut him off.

"What's 'dee-where-toes'?" asked Michael's sister warily.

"Day of the dead", mother replied.

Michael's father seemed genuinely astonished. "How'd you know that?"

Mom smirked haughtily at his father, and little sister reached up and grabbed Michael's hand tightly.

Catching that, Michael's mother said, "Honey, they're celebrating their ancestors. That's all. See, they set out all the things that their passed family members liked in life. It's to honor them."

Michael could smell tamales and warm sweet breads on the morning air.

"Do the dead come back to eat that stuff?" Michael asked ominously.

Michaels mother crouched to one knee and cupped his chin in her soft hand.

"No, silly", is all she said.

But Michael was thinking about the old Spaniard on the road.

Michael's family was in a procession up the steps to enter the church for Sunday services. At the threshold, a priest in colorful vestments was greeting parishioners. The village children lining the walls continued jeering at Michael, his brother, and sister. Their eyes bored into him. An older boy dressed in an immaculately white shirt shouted, "Hey" at the small band of gringo kids.

The adults didn't notice, but Michael did. He and his sister halted. The boy elbowed his friend, and they, along with several other children, exploded in muted laughter. Then the boy spoke something in Spanish at Michael. It was inscrutable and alien, but sounded terrifying–full of harm.

"Mom, go in." Michael pushed on his mother's dress. "GO IN!"

"Shush Michael."

Inside the long dark recesses of the church, images of the crucified Christ bore down on Michael, to where he sat in his pew, with untutored realism. Five wounds gushed blood. A face with soiled and tangled beard was wrought in agony under a crown of thorns. The suffering repeated as art on skins, and on plaques of gesso covered cottonwood, and carved wooden figures. Michael had been raised Catholic so he was used to churches decorated with scenes of the passion. But nothing like this. He'd never seen anything so raw in portrayal of agony. He was transfixed in a macabre fascination.

The priest's back was to the parishioners. As he raised a chalice before the altar, his vestments unfolded beneath his arms like curtains closing across a window. In unison, the Hispanic congregation and Michaels family rose to their feet. Michael was now standing amongst a forest of belts, coats, and ladies hips. A collective drone of deep and shrill voices reverberated from the worshippers like a hundred tongues speaking a single chorus in a deep cavern. Then the church rumbled like thunder as everyone bent to the hard wooden kneelers and the priest began to recite the Eucharist in Latin.

But Michael remained standing. He'd seen it for the first time. Had it been there before? A man was lying, face down, before the altar. The man's arms were stretched outward in the form of a cross, motionless as death.

Michael felt a tug upon his sleeve as his mother reached across his sister to signal him to kneel. But Michael couldn't. The prostrate man was lifting himself from the ground and rose to stand in front of the congregation. His head was covered in a black cloth bag. He was shirtless, and deep lines of old layered scars covered his back.

The man slowly turned and walked down the center aisle towards the rear of the church. He paused at the row of pews where Michael stood. The bagged head turned slowly towards Michael. A thick hangman's noose hung around the man's neck. Michaels mouth dropped open. Nobody else in Michaels row was paying the least bit of attention to the apparition, nor were the people on the other side of the aisle. Their head's were now turned directly towards the man. But the parishioners weren't looking at the man. Instead they glowered at the boy who remained standing despite the many tugs on his shirt from a red faced mother. The rear doors of the church opened silently, and the man was gone. Michael knelt slowly, shakily.

"Who was that man? Why did he have a sack on his head?"

Michael's parents were crouched over him in mid-morning sunshine under the cottonwoods at the front of the church. They were trying to make sense of what their child was saying. A man, in the aisle? They didn't understand.

A small crowd of parishioners loitered within earshot, shamelessly eavesdropping.

"What a babaso." The older boy in the white shirt who'd taunted Michael earlier stepped to the front of a small group. His comment was followed by a few guffaws.

"Retard! Tu madre es una estupida." Another boys voice murmured inconspicuously from somewhere, followed by a audible slap, a short yelp, and, "Oww, Papa, ayee."

A parent, possibly joined by other authorities somewhere in the assembly, efficiently ended the rank verbal assault on the young gringo from the local adolescents, but not before shutting Michael down completely. He would say no more.

"Perhaps it was those pictures in the church", Michael's father proposed reasonably to his mother."They we're pretty graphic. Must've gotten his imagination wound up."

She didn't seem convinced. Michael batted his mother's hand away as she reached to comfort him. His puffy cheeks looked down, and the scar tissue on his furrowed brow was pulsing and red. He'd been mortified in front of a crowd of hostile school age children.

Behind the people gathered around Michael, a large white horse nickered and pawed the ground with its great hoof. It was unheard and unseen by the crowd. The animal's head moved downward as though to scratch its antlers on the cottonwood bark. Before it could, its rider reined the animal upright with one hand. In the rider's other hand was the end of a ceremonial hangman's noose which looped lazily to the neck of a man standing beside his Andalusian mare. The standing man's body was stooped and his head bent as though repentant. He was shirtless and wore a head bag.

The rider eyed Michael with autonomy in silence.

by Jay Archer David

(back to top) (post a Comment)
The Last Penitente: Chapter 2 (click here)

---
Comments
---